Train Ride
thru Wildlife Park
Train Ride Only
Splash through the cascading waterfall of Mystery Mountain on your way into the Texas Wildlife Petting Park. The winding path brings you to meet the many friendly deer and other critters that wait for the trains.
Riding the train through our Wonder World's Petting Park is a unique and fun way to enjoy feeding, petting, and interacting with the many wildlife inhabitants. This is a great experience for all ages and one of the many family-friendly attractions offered at Wonder World Park. Both deer feed and human refreshments are available for purchase at the Train Station prior to departure.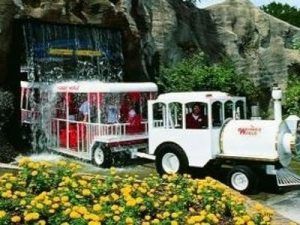 Train Ride Tickets
$9.50 per person (3 & Under are free for Train Ride Only)
$4.95 per person with local ID (78666).